This script is old and is no longer updated.
As of 9.19.2013 I have removed the sizzlemctwizzle updater requirement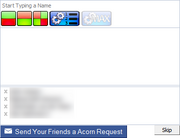 Install Automatically clicks "publish" on Facebook popups. Now also adds buttons to select 40 friends at a time from the top, bottom, or pick them randomly!
New Label-less Buttons
To conserve space, the mass selection buttons and toggle-able options are now graphical only. You can still see the button text if you hover your mouse pointer over the button.
Images are fairly self explanatory: green top is select top 40, green bottom is select last 40. Checkerboard pattern is select random 40. Blue button with gears 123 is the toggle switch to select short lists. Blue button with gears MAX is the toggle switch to select max players from long lists.
Script Needs Limits Info
Comment below to request the script recognize your favorite game's limits. Please list app_id and that app's multi-select box limits. For instance, FrontierVille is 40, while Empires is 75. If this script does not already work with your favorite game's multi-select boxes, please don't ask to have it added. I don't have time to add more games.
Ad blocker interference detected!
Wikia is a free-to-use site that makes money from advertising. We have a modified experience for viewers using ad blockers

Wikia is not accessible if you've made further modifications. Remove the custom ad blocker rule(s) and the page will load as expected.